Fragments (version 2015)
>46415.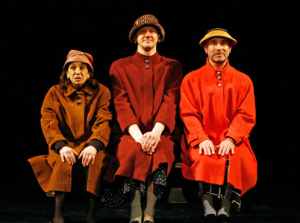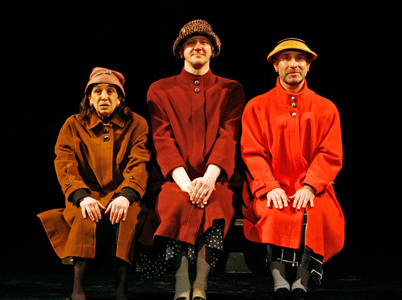 Aux Bouffes du Nord- Paris, du 6 au 24 janvier 2015
« Aujourd'hui, avec le passage du temps, nous voyons à quel point toutes les étiquettes qu'on a attribuées dans le passé à Samuel Beckett – un Beckett triste, négatif, désespéré – sont fausses. Ses pièces nous plongent dans la réalité de l'existence humaine, avec humour.
« Today, with the passage of time, we see how untrue are all the labels that have been attributed to Samuel Beckett in the past – a sad, negative, desperate Beckett.Cet humour nous sauve. Beckett rejette les théories, les dogmes. Il est à la recherche de la vérité, il observe les gens, dans l'obscurité, il les plonge dans le vaste inconnu de la vie. Ils découvrent leur vérité à travers des fenêtres en eux-mêmes, dans les autres, le regard tourné tantôt vers l'extérieur, tantôt vers l'intérieur, vers le haut, vers le bas, « to and fro », « de long en large », comme le dit si bien le personnage de Rockaby. Beckett et nous, partageons leur incertitude, leur recherche, leur peine.
On ne « reprend » jamais un spectacle – on le « refait » et c'est un nouveau Fragments qui va voir le jour avec ses interprètes Kathryn Hunter, Jos Houben et Marcello Magni. » Peter Brook et MH Estienne.
———-
« Today, with the passage of time, we see how untrue are all the labels that have been attributed to Samuel Beckett in the past – a sad, negative, desperate Beckett.  His plays draw us into the reality of human existence, with humour.  This humour saves us.  Beckett rejects theories, dogmas. He seeks the truth, he observes people, in the darkness, he swoops them into the vast unknown of life.  They discover their truth through windows that appear in themselves, in the others, looking now outwards, now in, upwards, down, ≪ high and low ≫, ≪ to and fro ≫,as the Rocakby character says so well.  We share with Beckett their uncertainty, their search, their anguish.This is not a revival, it's Fragments' revisited we will bring with its performers – Kathryn Hunter, Jos Houben and Marcello Magni. »
Peter Brook et MH Estienne