Sixty-five years ago, Kennet Tynan identified the qualities of a young Peter Brook as "repose, curiosity and mental accuracy – plus, of course, the unlearnable lively flair". Now 92, Brook may walk more slowly than he did but those gifts are still abundantly there. He is as busy as ever, with a new book full of aphoristic wisdom, Tip of the Tongue, and a new stage project, The Prisoner, due to open in Paris next year.
While a new generation may be unaware of the diversity of Brook's career, he has never forgotten his roots. We meet shortly after the death of his old friend,Peter Hall. "One of Peter's supreme qualities," he says, "was charm – and it was something I saw in two now forgotten figures of British theatre who shaped my life. One was Sir Barry Jackson, a fine old English gentleman who came from a Midlands dairy-owning business, founded Birmingham Rep and took over the theatre in Stratford, where he asked me to direct Love's Labour's Lost when I was only 21. In his way, he was a quiet revolutionary.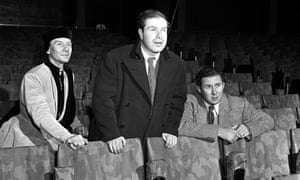 "The other big influence was the West End producer Binkie Beaumont who had that mysterious thing called taste. If Binkie wanted me to change some detail of lighting, costume or design, he would ring up and say, 'You do see, don't you?' in a way you couldn't argue with. All these figures had a charm that, in the theatre, achieves far more than tantrums or bullying."
If it's a quality Brook recognises, it's because he clearly possesses it. But his current preoccupation is with the sometimes irreconcilable differences between the French and English languages. Given that he has made Paris his base since 1971, when he founded the International Centre for Theatre  Research, it is a subject on which he has necessarily become an expert. Do the differences between the two tongues make the translation of Shakespeare into French virtually impossible?
"Not impossible but certainly very difficult. Take a famous phrase from Macbeth, 'Light thickens.' You can turn that into French, as Ariane Mnouchkine did, as, 'La lumière s'epaissit.' But the well-trained Cartesian French mind is unable to cope with the illogicality of the thought. A British actor will savour every syllable of a Shakespearean line while a French actor will drive to the end of a sentence or a speech with a propulsive rhythm: the thing you never say to a French actor is, 'Take your time.' The one translator I've worked with who overcomes these obstacles is Jean-Claude Carrière. He has the ability to render the underlying idea rather than the precise words and whose language has the clarity of a freshwater spring."
Brook understands what divides cultures. As he says in his book, "if in English we speak words, the French speak thoughts". Yet he also sees common factors, especially in the universal search in actors for ever greater self-disclosure. "If we were transported back to the Elizabethan theatre," he says, "I think we'd be shocked by the crudity and coarseness of what we saw. Over the centuries, there has been a quest for finer acting but, when I started out, the theatre was still a place of artifice. It was the age of grand design by people like Oliver Messel and Cecil Beaton, of big wigs and heavy makeup. What we see now, partly because of the influence of the camera and smaller stages, is a stripping away of the layers of pretence until the personality of the actor becomes visible."
That may be true but isn't something being lost – above all, the delight in impersonation? "You obviously have to reconcile inner depth with outer skill but I think back to some of the actors I have worked with. With Olivier, there was nothing he couldn't do as an actor except to reach the deepest sources of humanity itself. Gielgud, in contrast, had little of Olivier's gift of impersonation but the fine, pure, sensitive heart of the man himself was always there. Scofield, too, had that same gift for revealing his inward self."
I find myself questioning Brook's argument. I can think of one particular Olivier performance where, confronted by the extremes of human suffering, he seemed to dive into his very soul to call up cries of monumental despair. The production was Titus Andronicus at Stratford in 1955. The director? None other than Brook himself.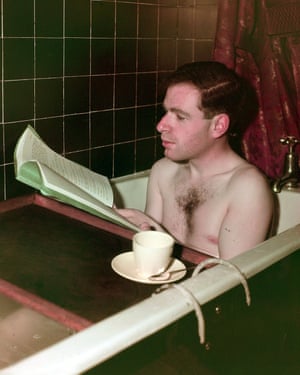 Given Brook's belief in acting as a form of self-revelation, I'm intrigued to know how he feels about gender-fluid casting. "I'd answer that," says Brook, "by pointing out how I worked consistently from 1971 to break down all the racial stereotypes in casting not by declarations of intent but by everyday practice. I think the same applies to issues of gender. You can change things not by preaching but by doing – or, as they used to say to me when I worked in Germany, 'Just get on your horse.'
"I'd only add that since men have exploited and abused women for centuries, we should applaud any movement that attempts to rectify the injustices of history. Did you see Glenda Jackson as King Lear? I've only seen a few moments of it on screen, but what struck me was that Glenda made no attempt to impersonate masculinity but simply brought her own unique qualities to the role in a way that transcended gender."
Possibly the most resonant statement in Brook's new book concerns the impact of live performance. "Every form of theatre," he writes, "has something in common with a visit to the doctor. On the way out, one should always feel better than on the way in." But "better" how? Physically, spiritually, morally? "I think this derives from the artist's sense of responsibility to the audience," he says. "People have entrusted themselves to you for two hours or more and you have to give them a respect that derives from confidence in what you are doing. At the end of an evening, you may have encouraged what is crude, violent or destructive in them. Or you can help them. By that I mean that an audience can be touched, entranced or – best of all – moved to a silence that vibrates round the theatre.
"You can, of course, encourage an audience to participate through joy, as happened in Follies. But I was struck by how when we toured Battlefield " – drawn from The Mahabharata and dealing with the apocalyptic impact of a great war – "around the world, on good nights there was that moment of tingling silence that suggested we had reached out to the audience."
But theatre does not exist in a vacuum. Brook has lived through more international crises than most of us. Has he ever been tempted to throw up his hands in horror at a world filled with nuclear threats, environmental disasters and political malfunction from Trump to Brexit? He answers by talking at length about the Hindu philosophy of Yugas in which world history goes through cycles from a golden age to one of darkness in which everything is chaos and turmoil. The point is that the wheel eventually turns and humanity renews itself.
All very well in the long term but, in the meantime, how do we survive? "We swim against the tide," says Brook, "and achieve whatever we can in our chosen field. Fate dictated that mine was that of theatre and, within that, I have a responsibility to be as positive and creative as I can. To give way to despair is the ultimate cop-out." That seems the distilled philosophy of a director who miraculously still retains the curiosity that Tynan singled out a lifetime ago.
• Tip of the Tongue, Reflections on Language and meaning / Sur le bout des lèvres